Miley and Liam have had an on-again/off-again relationship for the past decade. At first blush, it might seem concerning that these two have had so many ups and downs over the years. But when you think about the fact that they started dating when Miley was 16 and Liam was 19, it makes a lot more sense. Sure, there are some couples out there that meet in high school and have smooth sailing for the rest of their lives- but a lot of couples who meet that young end up taking a break, going to college in different cities, or otherwise creating space to learn a little bit about who they are as individuals.
So, where some may see a couple with a rocky past, I see two people who couldn't stay away from each other despite life circumstances trying to keep them apart. They really cemented things in December 2018 by officially tying the knot in Tennessee. Let's look at a timeline of their love over the past decade!
The Meet Cute
In June 2009 Miley and Liam were cast as the leads in The Last Song, a movie based on a Nicholas Sparks book. Their onscreen chemistry quickly translated into real life chemistry, and they were dating by the end of filming.
I think I may have seen this movie, but it was unimpressive enough that I don't remember. I decided to check the movie's Rotten Tomatoes Score (it's not good), and saw this blurb from an Entertainment Weekly reviewer that has to be the weirdest way to describe a human being I have ever heard. She frames this statement like its positive, but… ???
"Miley Cyrus is a really interesting movie star in the making, with an intriguing echo-of-foghorn speaking voice, and a scuffed-up tomboyish physicality (in the Kristen Stewart mode) that sets her apart from daintier girls."
By the next spring they went public with their relationship by showing up at the Oscars together.
Breakup Season Begins
But! A few months later they had their first breakup. It was reportedly due to Miley's hectic schedule, but how many teenagers do you know that break up due to hectic schedules? But I guess you don't know many teenagers who are international pop stars.
In the 6 months following the breakup they were seen out together on and off and occasionally seemed to be coupling up with other people, but appeared to be back on track by March 2011.
Back Together, This Time For Good!
June of 2012 they announced their engagement! Miley started showing off her ring in public and the two seemed completely in love.
And… Another Breakup
By February 2013 rumors that they had broken up again began to swirl. They both denied that the engagement was off, but it became pretty obvious that things had ended between them during a May performance of "Wrecking Ball." Miley pre-empted the song with this speech:
" … and every time you get in your car, you're going to hear my f*cking song on the f*cking radio, you piece of sh*t. That's right. And then I'm gonna take all my clothes off, I'm gonna sit on a big, giant d*ck — sometimes two — I'm gonna swing around, and then I'm gonna hold the record for the most-watched music video on Vevo. You know, you can tell a lot about a person — I think you can tell how big their d*ck is by how much confidence they have usually, and if I was a dude I'd probably have a really big d*ck, 'cause I feel really good about myself now. So I'm gonna tell those motherf*ckers that broke my heart, particularly one, to suck my fat d*ck and to enjoy hearing this song for the rest of your life. This song is called Wrecking Ball."
In September of that year Miley again performed wrecking ball, this time breaking down in tears during the performance. Miley, we get it. We all out here trying to hide our hurt behind anger!
Over the next year or so, Miley and Liam dated other people, but nothing ever seemed really serious.
The Engagement Ring Returns
In January 2016, they started showing up together in public again with the engagement ring intact! Miley eventually confirmed that the engagement was back on later that year on the Ellen show.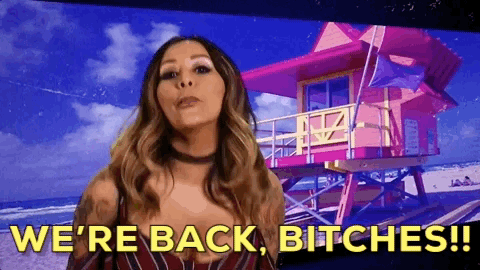 Mili/Liley/Miam have been going strong ever since! Though they spent time jetsetting around the world together and spending plenty of time in Australia near Liam's family, they built a home together at Liam's house in Malibu. The story behind Liam's purchase of the house is really sweet! During their long break in 2015, Liam bought the house to use as his bachelor pad. When the house was being cleared out in preparation for his move, he was completely confused to see photos of Miley filing out of the garage. He then learned that this house was where Miley had recorded most of her first album with her producer who lived in the home at the time. So when Miley moved in and they made this house into their home, it seemed like fate.
The Wedding
In November 2018, their home was lost to the wildfires spreading through the area. Losing the home they had created together, despite being tragic and challenging, brought them even closer together.When Miley talked about their loss, she said that through losing their home, they "found a new bond underneath all that rubble."
"When you experience what we experienced together with someone, it is like glue. You're the only two people in the world who can understand."
Their newfound rubble-bond really spurred them to action and, within a month, they got married in small ceremony with friends and family in Tennessee!
They (along with their dogs – there are at least 7, accounts vary) haven't built a new home yet, but seem to have found a home in each other. Looking forward to many more years of cuteness from these two!
August 2019 Update
Welp, that was fun while it lasted. They are filing for divorce now… soooooo. Yep.
Links & Photos
Subscribe to get new posts straight to your email inbox, or follow me on Instagram, Facebook, or Twitter!