This week Hannah and the guys hopped on a plane and flew to Scotland. In Scotland we finally got the one-on-one with Luke P. that no one wanted, and it was a Master Class in narcissistic behavior. So, if you are wanting to gaslight a special someone in your life and aren't sure how – this is the show for you! Here are my thoughts on the episode:
Luke vs. Luke Ended Anticlimactically
After all of the build-up last week, the Battle of the Lukes ended with Luke S. excusing himself from the rose ceremony and sending himself home. Before walking away he warned Hannah to "keep her eyes open" multiple times.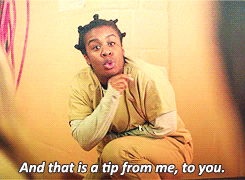 ---
Mike and Hannah's Scotland Date
Hannah's first one-on-one this week was with Mike. It was cute and sweet but not super notable. Mike is an adorable angel, but there just isn't as much chemistry with him as some of the other guys.
We did get a really special moment from this date, though – Hannah sniffing a book (which is kind of a normal thing to do), then holding a goose egg up to her ear (which is in no way a normal thing to do).
---
Highland Games Group Date/Thirsty Hannah
The group date this week had the guys (everyone except for Luke P. and Mike) wearing kilts and playing some "Highland Games." I did a little googling, and axe throwing and wrestling seem to be actual Highland Game activities, but I struggled to find evidence that carrying buckets of milk around is a real event. But I did find an advertisement for some Highland Games in Florida that described the event as "watching people in skirts get hernias" which I highly appreciated.
Hannah really enjoyed this date. Between Jed pouring milk over his head: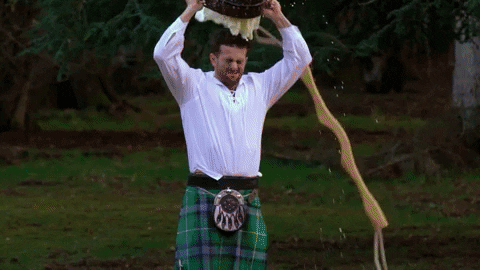 and an extremely generous use of black boxes to cover up loose junk: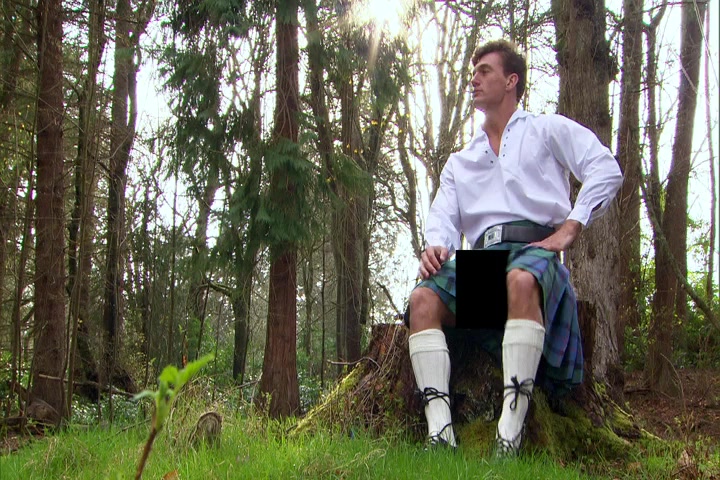 Hannah could not keep her hands and eyes off of these boys. I mean, I get it. I imagine if I were on vacation in Scotland watching 10 of my 12 boyfriends roll around in the grass with their undercarriages free, I would get a little riled up too.
Following the games, Hannah and the boys hung out in a nearby castle. Hannah used that thirsty energy to fuel a series of intense make-out sessions all over the aforementioned castle.
First came Jed on some atique chair on a stair landing. She tried to straddle him, but her dress basically made her 2 legs into one giant leg, making straddling impossible. They settled on a side-saddle situation.
Kevin started walking up the stairs to find, but quickly turned around when he saw them making out in the antique castle chair. When he described this event to the camera, he described Hannah as having pinned Jed down and "attacking the s—t out of him!" Later, when Jed was talking about how great his time with Hannah was, Kevin piped up with "I accidentally saw it as well… I know it was great." I'm going to embed the clip below, mostly as evidence that this interaction was totally lighthearted, and no anger or meanness was involved. If you take Luke P. out of the situation, this is actually a delightful and sweet group of guys. Maybe the best cast since Rachel's season.
Next came Peter. They were playing pool, and he picked her up to set her on the pool table, but knocked her head into the hanging lamp. Once again, physics were not on Hannah's side. But she didn't let that thwart her, and a second attempt landed everyone successfully onto the pool table for make-out sesh #2.
Last on the make-out train was Tyler. Following a weird misunderstanding where Hannah told Tyler he was the only one who could "wax that axe" and he thought she said he could "wax her a$$," they took their makeout session to a nearby bed (no physics problems there).
Side note: if you think that Hannah is the kind of girl to give in to any shame or embarrassment about her castle extravaganza, think again:
At the end of the night, it was the side-saddle straddle in the antique chair that won the day, and Hannah gave Jed the group date rose.
---
Luke is STILL a Dirtbag
Luke continued to behave horribly this week, surprising no one.
Luke got the second one-on-one date of the week. I'm thinking the original intent for this date was for it to be a two-on-one with Luke S. based on their previous conflict and the fact that this date consisted of being trapped on a remote hill and no fun activities whatsoever (the traditional setting for two-on-ones has always been rugged, remote locations).
Hannah uses her time with Luke to try and get to the bottom of his problems with the other guys. She straight up asks him why everyone hates him, stating that she wants to be with someone that people are drawn to, followed by "people are not drawn to you." He responds with, and this is a direct transcription, "everyone I've ever met, every place, every school I've ever been, anywhere I've ever been in my whole life… everyone loves me." In true narcissist fashion, he blames the other guys and says that they have all blown his actions out of proportion.
Hannah, obviously, does not like his non-answer. She spends the entire date doing her very best to force him into having a normal human conversation, even going so far as to ask some producers to tell him how to talk about his feelings.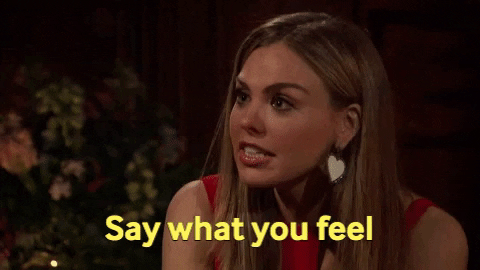 At one point he even tried to turn things back onto her, responding to her request that he be genuine with basically, "WELL MAYBE YOU ARE THE ONE WHO ISN'T BEING REAL!!" If Hannah were trying to put on a front, I'm pretty sure she wouldn't be going around listening to goose eggs, Luke.
---
Hannah didn't offer him a rose at the end of the date, but the Next Week on The Bachelorette footage showed him kneeling in a church and praying, so I think we are going to see more of him next week. I am so sick of this dude, but my one consolation is the thought that people may make some killer memes from that church kneeling footage.
John Paul Jones
We lost John Paul Jones this episode, which is a tragedy because I think he would have been VERY fun to watch playing Highland Games and wearing a kilt.
Subscribe to get new posts straight to your email inbox, or follow me on Instagram, Facebook, or Twitter!
Who Went Home This Week
Some Tweets That Made Me Laugh