If you are looking for something to help you wind down and free your mind from the cares of the world this evening, I have compiled this very exciting, very sexy story for your exhausted little brains. So close out of Instagram/Twitter/Reddit, grab you a glass of wine (or beer, or a G&T, whatever – chase your bliss), and settle in for this wealth of GIFs and quotes from Sandy & Keanu.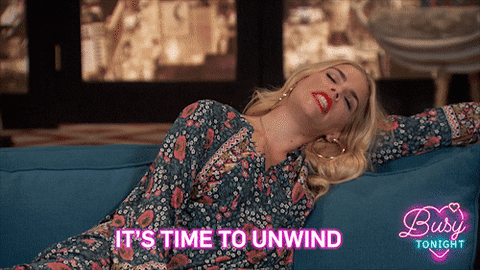 My newest internet/celebrity obsession is Keanu Reeves and Sandra Bullock's friendship over the past 25 years. I stumbled upon a few adorable photos of the two of them together, tumbled down an internet rabbit hole, and now it's ALL I CAN THINK ABOUT. And if you see all of the photos and GIFs below and wonder if I spent hours of my life scouring every corner of the internet for every video of Sandy & Keanu I could find and creating GIFs from them myself, that would be correct.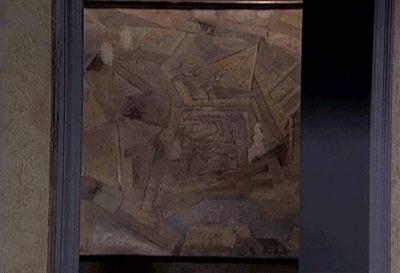 The Beginning/Speed
Sandy & Keanu first met when they were cast as the leads in the 1994 film Speed. In a press interview for the movie, Sandy described their chemistry read as being very physical and involving a lot of rolling around on the floor together. "At one point Keanu stumbled into me and sort of grabbed my butt. I asked him, 'Are you copping a feel?' He got all panicky and was like, 'Nooooo! I wasn't!' I was like, 'Relax, Keanu. Just kidding."
Keanu was hot off of Point Break, and Sandy was basically unknown at the time. Speed was a huge hit, and catapulted both of them into the spotlight. Their chemistry in the film is well documented by many a Speed lover, and one writer even described them as "ludicrously sexy" together. I watched it for research for this very important piece of investigative journalism that you are currently reading.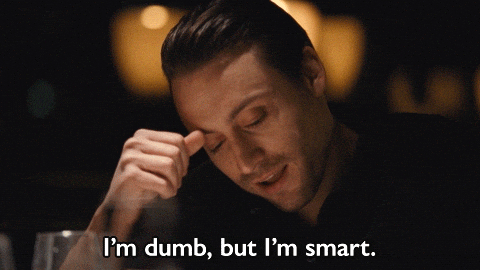 Not only was their on-screen chemistry something for the ages, their adorableness during the press tour is almost too much to bear.
Here is an interview wherein Keanu gushes about how talented and beautiful Sandy is just before she crashes it.
And here they are at some press event, clearly deeply in love whether they know it or not.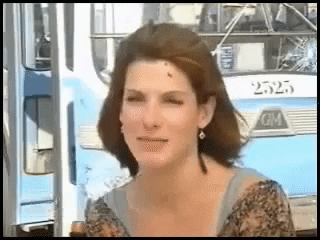 The Lake House
A little over a decade later (2006), Keanu and Sandy starred in another movie together. This one was not quite as critically acclaimed as Speed (they hated it!) but a lot of us plebes really enjoyed it, again because of the chemistry. The Lake House is a movie about two people communicating across a two year time gap through a mailbox time portal (if that doesn't make any sense to you, I would just breeze past it), so they don't actual interact with each other except for one scene at the end of the movie. Because of this, they didn't actually film very many scenes together. In a joint interview with both of them, Sandy said, "I was bummed at first thinking we weren't going to be filming that much together. But to do the scenes where our letters are talking, we got together and just sat in a sound studio and talked to each other. We connected through those words." Keanu responded with " I can't explain in words why Sandra and I have chemistry on screen or why we work well together. We just do, and I'm glad because I like her tremendously as a person."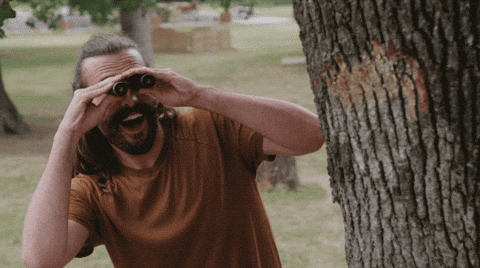 They had a comfort level working together that Sandy described as, "it's an ease for me to look at him directly in places when I'm not comfortable with myself, I can look him in the eye and feel that I have a place there."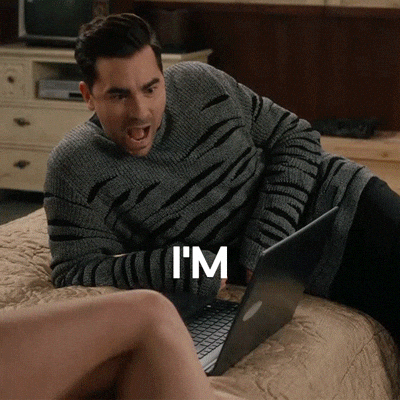 If you are wondering if they kept up between Speed and The Lake House, don't you worry your pretty little head. Of course they did. They wrote each other letters from time to time, which is precious and delightful, and Sandy has said, "Every time I heard he had an accident I'd call to make sure he was okay." (he rides motorcycles and is kind of a daredevil, its a whole thing).
That same year, they won a teen choice award for best kiss for their kiss at the end of The Lake House.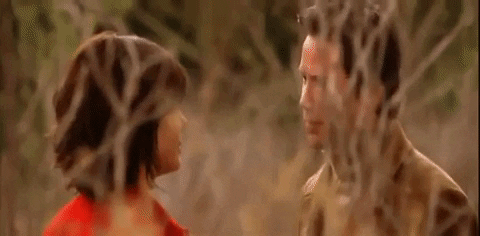 We all just wanna see these two people kiss more!
2014 Decade of Hotness Award
In 2014, Sandy won an award at the Spike TV Guy's Choice Awards for a Decade of Hotness, which was obviously well-deserved. (I mean, the actual award seems a little creepy and I have never heard of that awards show, but we don't have time to get into that.) At the ceremony, a few of her past co-stars gave speeches in rousing support of Sandy's hotness, including Hugh Grant, Matthew McConaughey, and Keanu (of course!). Keanu is rumored to have given an overly long speech, but I can't find it anywhere. There is a snippet of it floating around the internet though:
"I know tonight is about your hotness, which cannot be denied, but your beauty is not just what's on the outside, but more importantly, what's on the inside. Your humanity, your humility, your sense of humor,  your heart, your soul, your light, your talent that you share with all of us... is amazing and wonderful, and extraordinary. You are one of a kind, and you are most definitely, definitely hot."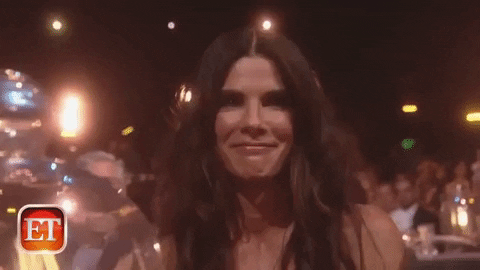 Sandy is Keanu's Most Famous Pal
During a 2015 during a Reddit AMA, Keanu listed Sandy as his famous-est friend!
Mutual Crush Admission
In 2018, Sandy went on The Ellen Show and admitted that she had a crush on Keanu during their time filming Speed. She said that it was hard to be serious during takes because she was so giggly around him (#relatable).
Then. THEN! In 2019, Keanu went on the Ellen Show, and Ellen showed him the clip of Sandy admitting her feelings. He got all blushy and cute and said "She obviously didn't know I had a crush on her either!"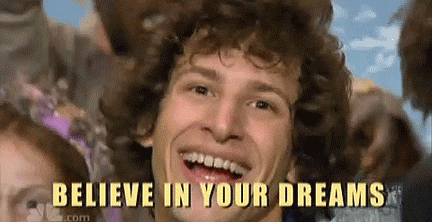 Some gifs I Made Because I Have Problems
To close this out, here are some gifs I made of the two of them being touchy and lovey and sweet during interviews over the years.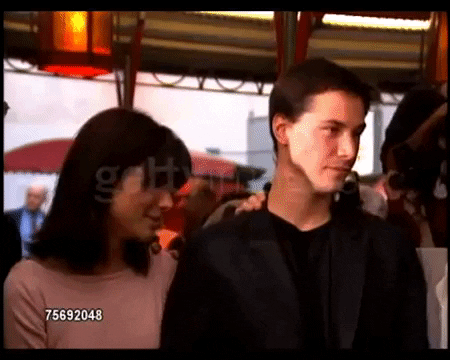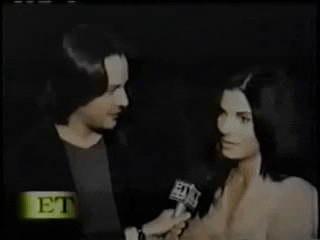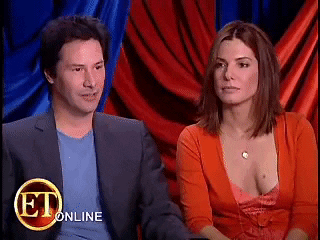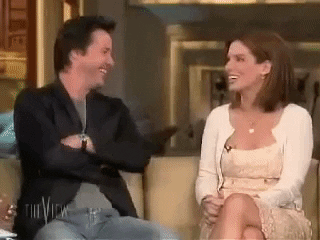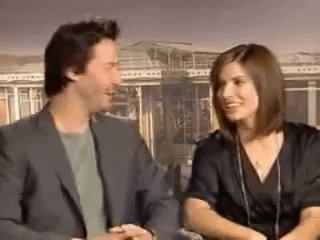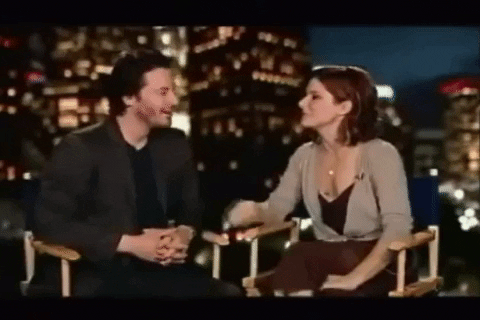 I'll have to end on this quote from an Independent article, because I can't say it any better:
"If they're never going to actually get together, a third on-screen collaboration wouldn't be the worst thing they could do for us. Consider it another act of charity. The world needs it." 
Links & Photos
Keanu Reeves Is Too Good for This World — A delightful little piece about how wonderfully kind and especially precious Keanu appears to be
Sandra Bullock: Don't Mess With Our Girlfriend
Subscribe to get new posts straight to your email inbox, or follow me on Instagram, Facebook, or Twitter!